We Care For Your Family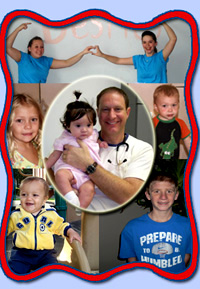 Welcome!
Expecting your first child? Transferring from another state? Looking for a change?
If you have specific questions about Pediatric Center, we invite you to call our office, at (281) 341-9696. We will be happy to listen to your concerns and set you up with the right pediatrician for your family. We also have a great network of sub-specialists that we know and highly respect. Feel free to visit our practice to see for yourself why we are special.
We encourage our patients to schedule appointments prior to arriving to the office for care. When patients call ahead for an appointment, it allows us time to better prepare for them. Forms can be completed, insurance coverage can be verified, and the visit will go more smoothly. Scheduled appointments allow everyone to respect their own precious time as well as the time of others.

We pride ourselves in our policy to make every possible effort to see our sick patients on the same day that they call. We will care for them as quickly as possible. We are proud of this commitment to our patients.

If our sick patients walk in without an appointment, we will be happy to see them. If time allows for a well appointment, it can be done, however we may have to ask you to come back at another time depending on what the schedule allows.
NEW PATIENT?
Download Forms and call us for an appointment
For the Insurance companies that we accept check our Insurance page.

CURRENT PATIENT?

Let us know how we are doing by emailing us at: office@pediatriccenter.com
PATIENT EDUCATION
Summer Safety
Childhood Illnesses
You And Your Baby
Child Saftey
Breast Feeding


WHAT'S NEW?

Visit Dr. Bornstein's site:
ibabydoc.com

The website "pediatriccenter.com" is for informational purposes only. It is not intended or implied to be a substitute for professional medical advise, diagnosis or treatment. If you have questions or concerns about your health, please contact your doctor or other health care provider. Information in the website is subject to change without notice. While we have tried to ensure that the information in this website is accurate we cannot guarantee the accuracy of the information or links to other Web sites. All rights and permission are reserved. Website design Decostar